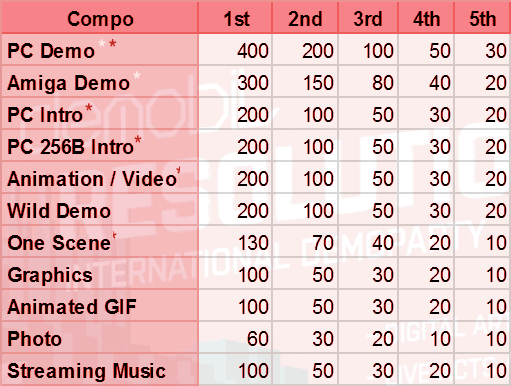 We know how much effort, skills, battle, face full of sweat required creating a demoscene production. But after that, full of love and enthusiasm, you deliver your masterpiece to the compo team waiting for a big moment until it will appear on a big screen.

We have the ready budget of 4000 EUR for competition prizes and normally we reward every production up to 5th place. We appreciate real-time/wild competitions the most. Besides that, we have some goodies from our partners.

The final positions of the contestants are selected by public voting of the participants presented at the party. Financial rewards will be paid by bank wire after the party.

* Trophies - the real artistic pieces for the best works in most respected categories.
Exclusive trophies made with love, effort, fantasy by hands of a professional artist Filip Šicko only for the Demobit participants:
---
Grand artwork trophy for PC demo and Amiga demo compo winner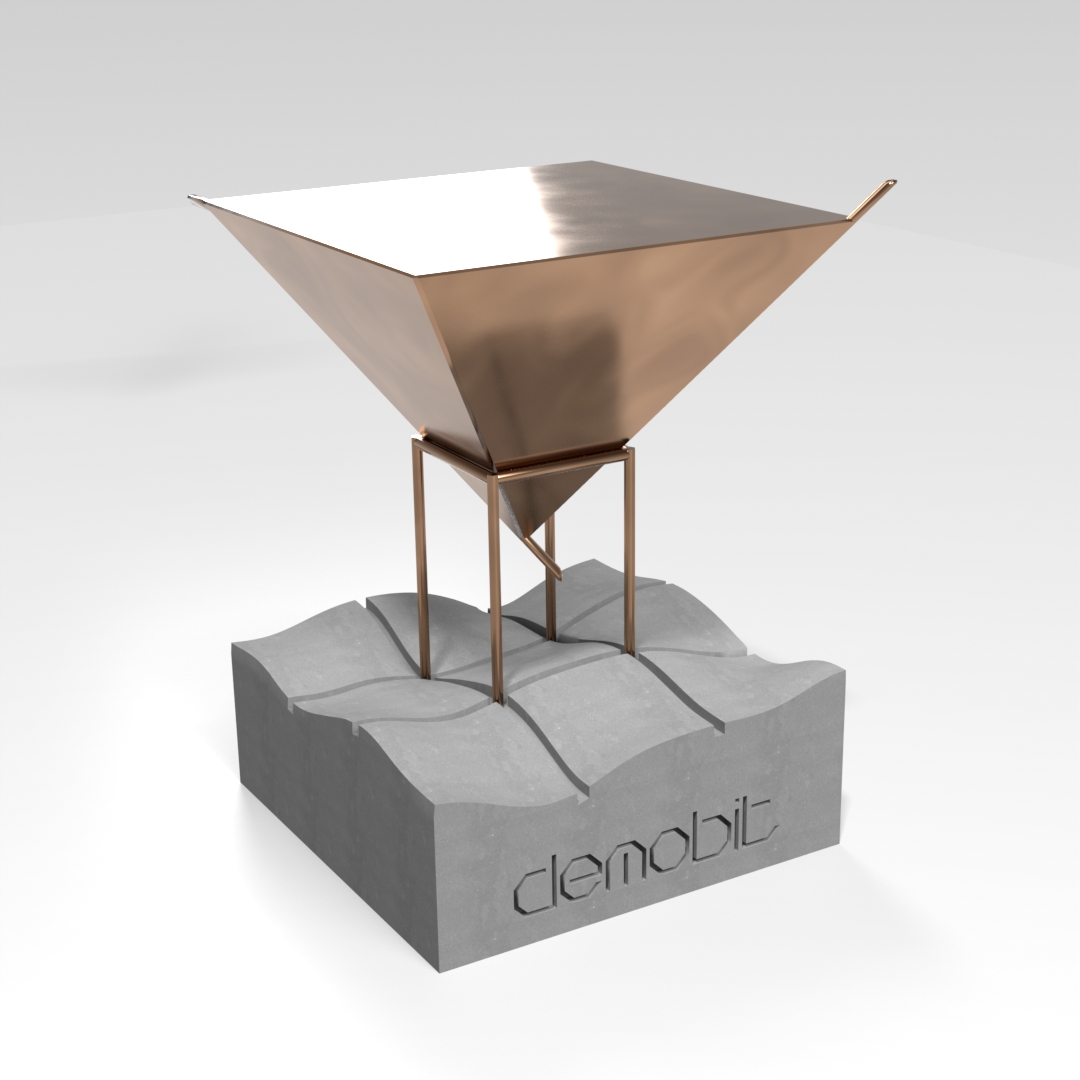 Artwork trophy for real-time categories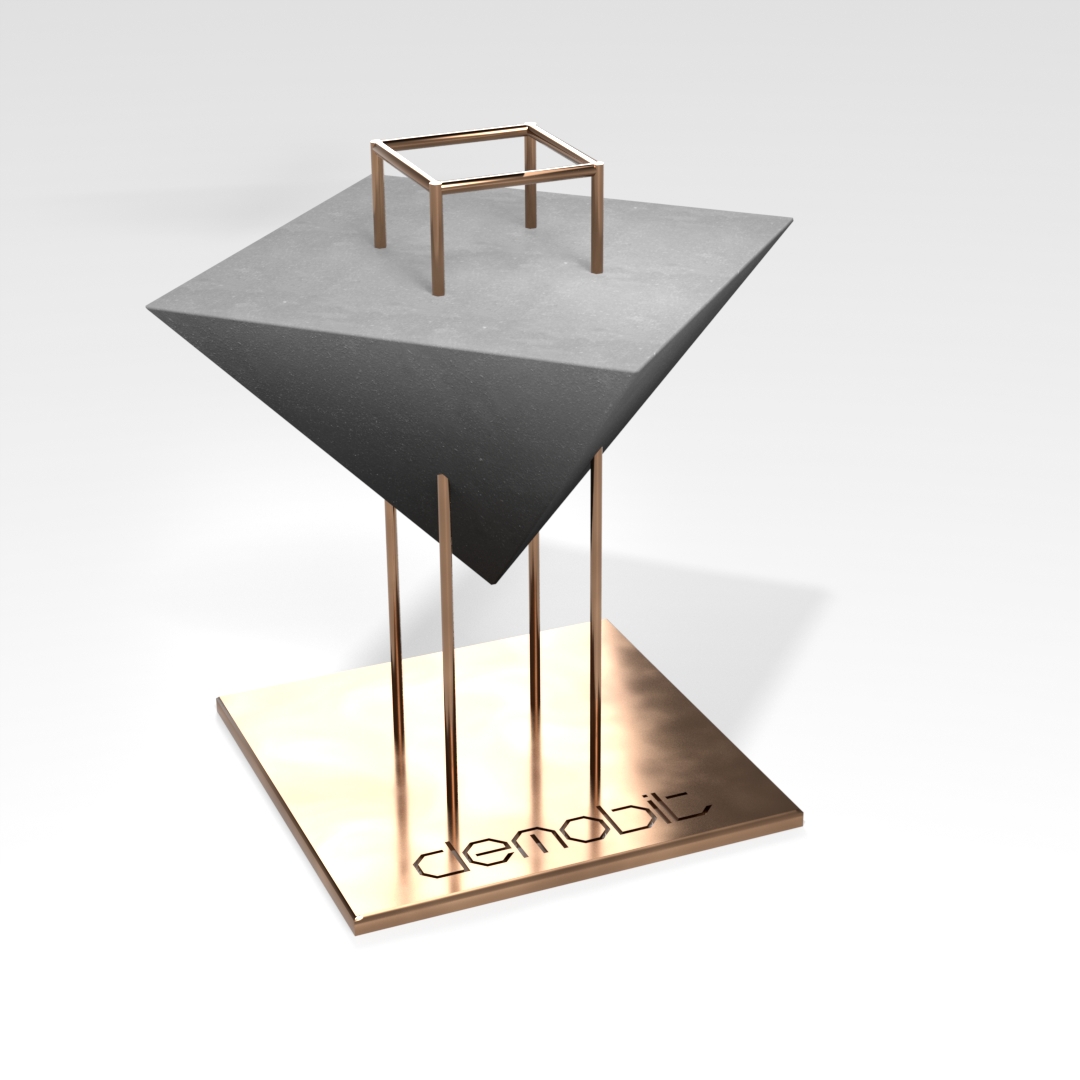 ---
Totally, there are 6 artwork prepared. PC demo and Amiga demo will be awarded by the Grand trophy.
Winners of both intro competitions and 2nd place of PC demo will be awarded by the second trophy. One, the remaining trophy will be decided upon the quality of submissions in these competitions: Animation/Video, One Scene and PC Demo.
Please be aware that receiving the trophy is conditioned by your presence at the party place.

IBL Software Engineering Award
Technically most advanced and sophisticated release
will be chosen from relevant real-time categories and productions requiring GPU programming - PC Demo, Wild Demo, PC Intro a One Scene Compo.
The main criteria followed are the technical difficulty, the use of unusual and interesting algorithms, the innovative use of graphics accelerators and the effort to sharpen borders in visualization techniques. Artistic processing will not be the primary rating criterion.
The award is sponsored by our valuable partner
IBL Software Engineering
.
The winner will gain a
high-end graphics card EVGA GeForce RTX 2070 XC GAMING
.
Artistic Jury Award
Artistically most valuable release will be again selected by Special Artistic Commision consisted of members who commit their profession to art and design.


The members of the Jury:

Luka Brase - Artist from the heart of Europe has done 20 solo exhibitions in Norway, Belgium, Netherlands, Austria, Germany, Ireland, Slovakia, United Kingdom, Hungary, Switzerland, Czech Republic, USA - New York and Washington DC.
16 group participation in Netherlands, Austria, Czech Republic, Slovakia, Ireland, France among them important show in Künstlerhaus Wien, Affordable art fair Amsterdam, Accessible art fair Bratislava and Cite Internationale Des Arts in Paris.
His works belong to private collections in many countries in the world.
He is the founder of project Art on the way and represented by DE Galerie in Den Haag, Netherlands.

Martina Ivicic - after the master degree of Theory of interactive media, she has been lecturing at Faculty of Arts at Masaryk University in Brno, where she applies the strategy of new media archeology and research of intersections of art and science in the history. The scope of her research and publication activities oscilates around various transformations of digital media into the biological sphere.
Since 2015 as an independent curator and cultural manager she has developed an annual festival of contemporary visual art DOM. As a cultural activist, she collaborates with cultural platforms in gallery practice and education, production and managing of exhibitions and presenting art.
In her artistic work she merges photography, video and their extensions into spatial intermedia installations.

Maria Riškova - the director of the Slovak Design Center
The winner will gain a
work of art
made by professional artist
Erik Binder